Aorta Anatomy
Last update:
Introduction
The aorta is the largest and most important artery in the human body, acting as the first station for oxygenated blood before it distributes it to the rest of the body. It originates from the left ventricle of the heart and is divided into ascending aorta, arch of aorta, and descending aorta.
In this tutorial, we will look closer at the anatomy of each part of this magnificent artery.
Ascending Aorta
The
ascending aorta is the first portion of the aorta. It arises from the base of the left ventricle, and measures around 5cm in length. It begins immediately at the opening of the aortic valve with dilation called the aortic sinus, from which the left and right coronary arteries arise.
Arch of Aorta
The
arch of aorta is a continuation of the ascending aorta as it goes superiorly, posteriorly, and to the left. It gives rise to the following three major branches:
Brachiocephalic trunk (which gives rise to the right common carotid artery and the right subclavian artery).
Left common carotid artery.
Left subclavian artery.
Descending Aorta
The descending aorta is further divided into the
thoracic aorta, which gives rise to the intercostal arteries and subcostal arteries among many others, and the
abdominal aorta which gives rise to all the arteries supplying the abdominal and pelvic viscera, including the celiac trunk, mesenteric arteries, suprarenal arteries, and
renal arteries. It ends by bifurcating into the left and right
common iliac arteries.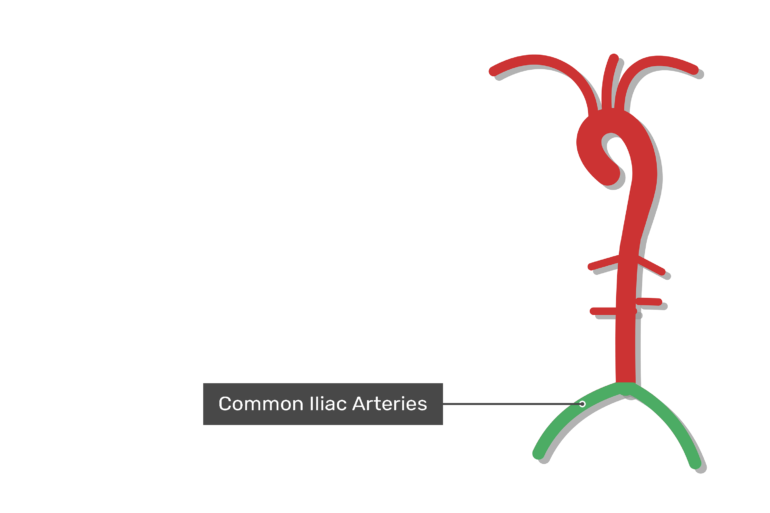 Test Yourself