Larynx: anatomy, location and function
Last update:
The walls of the larynx are made up of
cartilage, ligaments,
membranes, muscles, and respiratory mucosa (or mucous membrane).
There are nine (9) laryngeal cartilages, three (3)
paired and three (3) 
single single. Together, they form a supportive skeletal framework.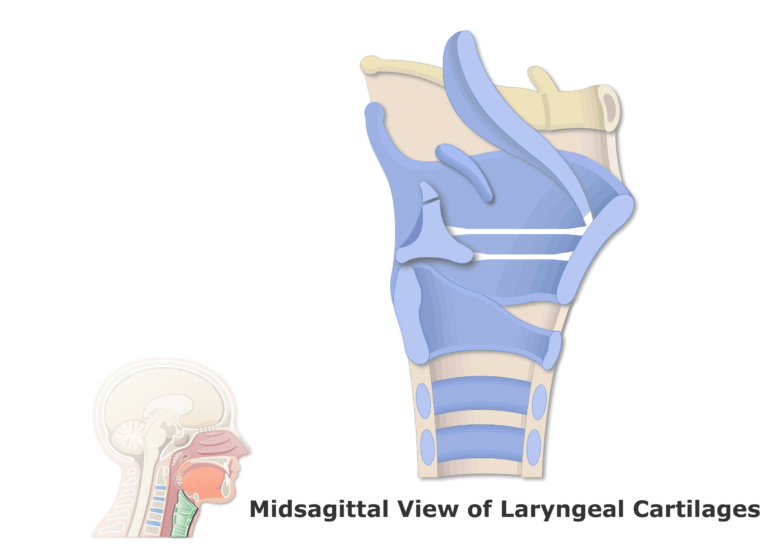 Several ligaments and membranes loosely hold the cartilages together.
Swipe to explore the ligaments of the larynx
Two sets of muscles control larynx movements.
Intrinsic muscles regulate the tension and orientation of the vocal ligaments that produce the voice. Superior view/ Lateral view
Extrinsic muscles (not shown) adjust the position of the larynx during the swallowing process.
Have you tried using flashcards to solidly your knowledge? Find out how you can make your own.
Respiratory mucosa (or mucous membrane) covers most of the interior surface of the larynx. It is continuous with the tissues that line the pharynx and serves to further clean, moisten and warm inhaled air.
Location and Functions of the Larynx
The
larynx is a short (= 1.5 inch) tube that is located in the throat, inferior to the
hyoid bone  and
tongue  and anterior to the
esophagus.
Forming the larynx are nine (9) supportive cartilages, several intrinsic and extrinsic muscles, and a mucous membrane lining.
As a primary function, the larynx provides a carefully guarded air passageway

(See the GIF below)

  between the pharynx and the trachea.
During the swallowing process, movements of the cartilages close the entrance to the larynx so food and drink cannot enter.
The larynx also houses the vocal folds and ligaments that produce the voice sounds.
Have you considered revising this topic with flashcards?
An Overview of the Larynx:
Larynx Cartilages: 
Show/
Hide answers
Larynx Wall: 
Show/
Hide answers
Intrinsic Muscles:
Show/
Hide answers
Ligaments and Membranes:
Show/
Hide answers
Test yourself while observing the Larynx
An Overview of the Location and Functions of the Larynx:
Swipe to show/ hide answers