Lung Lobes and Fissures
Last update:
The lungs are anatomically and functionally divided into large subunits called lobes.
The slightly larger right lung is divided into the superior lobe, middle lobe, and inferior lobe lobe. Only two lobes are present in the smaller left lung, the superior and inferior.
Each lobe receives air from its own secondary bronchus and is separated from its neighbors by fissures (or connective tissue walls).
These anatomical partitions help prevent mechanical damage or infectious agents from affecting nearby the lobes.
In the right lung, a horizontal fissure separates the superior and middle lobes and an oblique fissure separates the middle and inferior lobes. A second oblique fissure separates the two lobes of the left lung.
Continue learning about the respiratory system with these quizzes and labeled diagrams.
An Overview of the Lung Lobes and Fissures:
Mediastinal:
Show/
Hide answers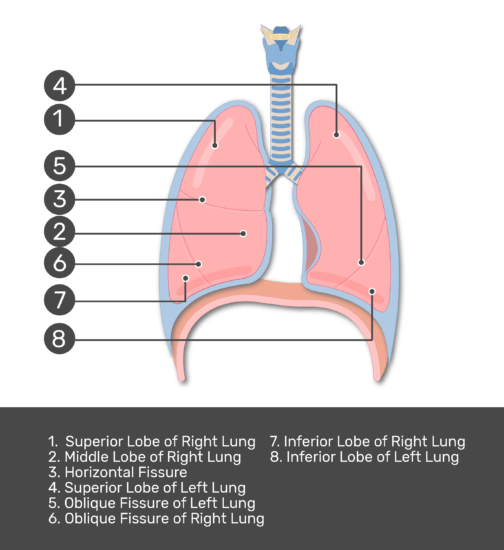 Swipe to show/ hide answers and to switch between viewsM=