Last update:
Paranasal Sinuses and Sinusitis
Several open, air-filled chambers called paranasal sinuses (see the image below) are present in the bones surrounding the nasal cavity.
Two
frontal sinuses are in the bones just above the orbits, and several small 
ethmoid air cells (or sinuses) are in the bones between the orbits. Two large 
maxillary sinuses are in the cheek bones, and and two 
sphenoid sinuses  are in the bones at the base of the skull.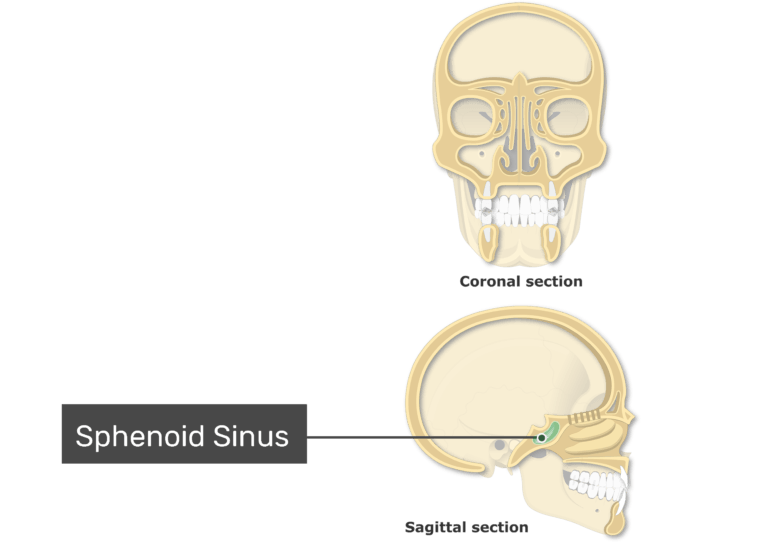 A thin layer of 
respiratory mucosa(or nasal mucosa) lines the paranasal sinuses. Mucus produced in the sinuses normally drains out of small apertures (or ostia) and adds to the mucus in the nasal cavity.
The open sinuses also help lighten the skull and resonate the voice sounds.
Sinusitis most often occurs when infections, allergies, or tissue irritants cause the sinus mucosa to become inflamed. The edematous (= swollen) membranes block the ostia drainageways that lead to the nasal cavity and mucus accumulates in the open sinus chamber.
Air trapped in the sinus is absorbed into the bloodstream, creating a negative pressure or vacuum. As the vacuum builds, so does the sense of pain. The vacuum may draw fluids into the sinus from the bloodstream. Bacteria and other microbes often grow in these fluids leading to more edema and inflammation.
An Overview of the Paranasal Sinuses and Sinusitis:
Test yourself while observing the Paranasal Sinuses and Sinusitis anatomy