Oxygen-Hemoglobin Dissociation Curve
Last update:
In this tutorial, we will discuss how the concentration of oxygen in the blood plasma (partial pressure of O2 or pO2) affects oxygen-hemoglobin (O2-Hb) saturation.
As O2 enters the vial of blood, the plasma pO2 increases and more O2 binds with hemoglobin.
pO2
Hb + O2 <———–>HbO2
The reaction also causes the color of the RBCs in the vial to change from purple to red.
As the pO2 approaches 100 torrs (or mmHg), the hemoglobin molecules become nearly fully saturated.
Hb + 1 O2 = 25% saturation
Hb + 2 O2 = 50% saturation
Hb + 3 O2 = 75% saturation
Hb + 4 O2 = 100% saturation
The O2-Hb relationship is sigmoidal (or s-shaped) and not linear. (see the image below)
The upper end of the curve is flatter than the lower end.
Struggling to remember all the new information? Find out how you can memorize more efficiently using the technique of active recall.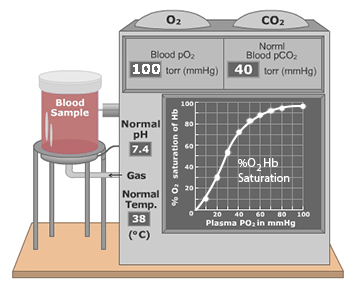 This indicates that the first three O2 bind to hemoglobin molecules at relatively low pO2 (= 0 – 40 torr). In contrast, adding the 4th O2 to hemoglobin moleculess requires a relatively high pO2 (= 40 – 100 torr).