Tracheal Wall Composition and Structure – Anatomy of the Tracheal Tube or Windpipe
Last update:
An expanded view of the trachea and esophagus. Swipe to switch between views.
The wall of the trachea is made up of four distinct tissue layers.
Along the luminal surface, the trachea is lined by respiratory mucosa (or mucous membrane). Goblet cells in the pseudo-stratified ciliated columnar epithelium produce mucus, which warms, moistens, and removes foreign particles from the air as it flows through the trachea..
trachea
The (seromucous) glands secrete a combination of water and mucus to the luminal surface of the trachea through narrow ducts. The mucus adds to that secreted by the goblet cells.
External to the submucosa is a cartilaginous layer containing c-shaped .
The open end of the rings are attached by the trachealis muscle. While coughing, these smooth muscle fibers contract. This narrows the tracheal lumen and increases the velocity of airflow, which helps dislodge mucus and foreign particles.
Keep learning with these respiratory system quizzes and diagram labelling exercises. 
The outer layer of the trachea, the adventitia, is a band of loose connective tissue that loosely bind the trachea to the esophagus and other nearby organs.
A photo micrograph shows a more realistic depiction of the layers and structures that make up the tracheal wall.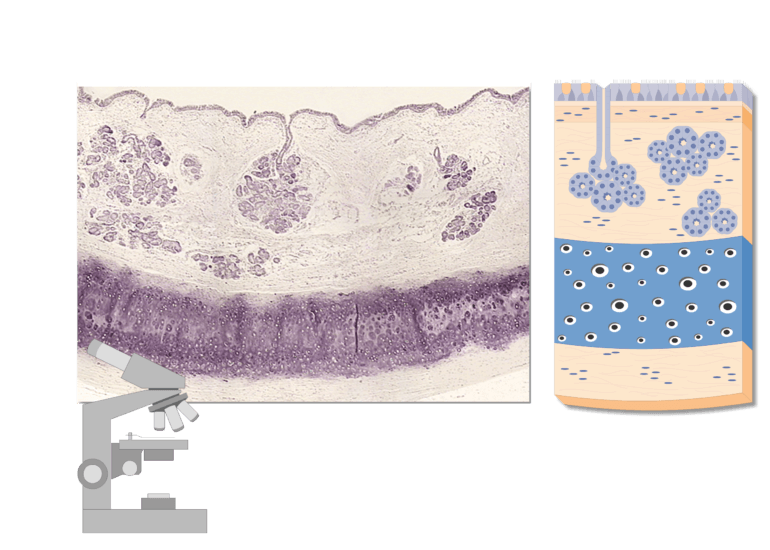 An Overview of the Tracheal Wall Composition and Structure:
Test yourself by observing the Tracheal Wall Composition and Structure