Temporal Bone Anatomy
Last update:
Introduction to temporal bone anatomy
The
temporal bone (os temporale; L., the temple) forms portions of the sides and base of the skull.
It is anatomically divided into four regions called the squamous, mastoid, temporal, and petrous parts.

The flattened squamous part forms the superior region of the bone that helps protect the sides of the

brain

(

temporal lobe

).

The thick, mastoid part forms the lower, posterior portion of the bone. Its roughened surface provides attachment sites for muscles that move the head and control the swallowing process.

The tympanic part lies anterior to the mastoid part and inferior to squamous part. It contains the external auditory meatus, a canal that leads to the tympanic membrane (eardrum) and bones of the middle ear.
Markings of the Temporal bone
Squamous part or squama (pars squa-mosa: squama temporalis) is the smooth, thin, superior portion of the bone that forms the lower lateral cranial wall. It gives attachment to the temporalis muscle. [Lateral view / Cranial floor view]
Zygomatic process (processus zygo-maticus temporalis) is a narrow, anterior extension from the inferior portion of the temporal squama. It joins with the temporal process of the zygomatic bone to form the zygomatic arch (or check bone). The zygomatic arch gives attachment to one of the chewing muscles, the masseter muscle.  [Lateral view/ Inferior view]
Learn the bones of the body fast and efficiently with skeletal system quizzes and diagrams.
Tympanic part (pars tympanica tem-poralis) is the region of the temporal bone that surrounds the ear canal. It is located inferior to squamous part and anterior to the mastoid part of the bone.   [Lateral view/ Inferior view]
External acoustic (auditory) meatus (meatus acusticus externus temporalis) is a prominent canal (the ear canal) in the tympanic part of the temporal bone. It transmits sounds to the tympanic membrane (eardrum) in the middle ear. [Lateral view/ Inferior view]
Styloid Process (processus styloideus temporalis) is a narrow inferior extension from the bottom surface of the tympanic part of the temporal bone. It is an attachment point for two ligaments and three muscles that move the pharynx and larynx during the swallowing process.   [Lateral view/ Inferior view/ Posterior view]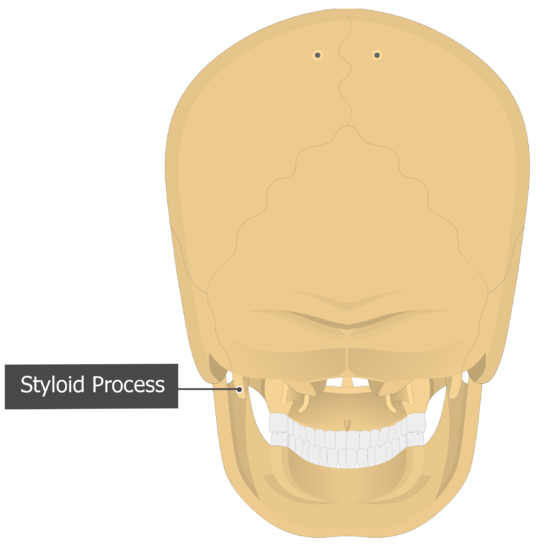 Petrous part (pars petrosa temporalis) is a pyramid-shaped portion of the temporal bone that projects medially and anteriorly from the squamous part. It forms a narrow mass between the sphenoid bone (anterior) and the occipital bone (posterior). This hardened extension (petrosus; L., hard) encloses the middle and inner ear structures. [Cranial view/ Inferior view]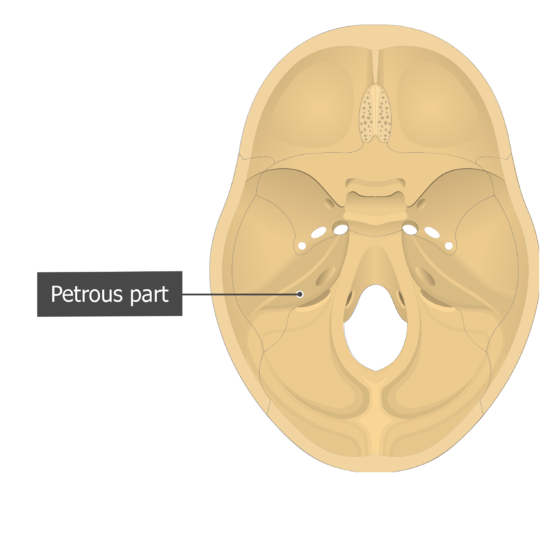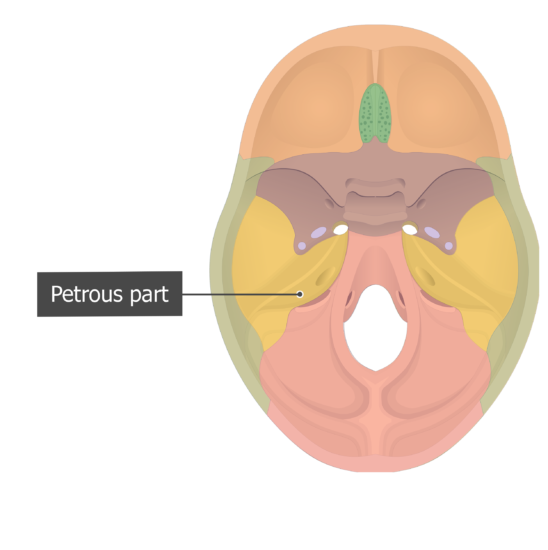 Internal acoustic (auditory) meatus (meatus acusticus internus temporalis) is a canal along the posteromedial surface of the petrous part. It gives passage to the facial and vestibulocochlear (auditory) nerves and the labyrinthine artery (an internal auditory branch of the basilar artery). [ Cranial view ]
Carotid canal (canalis caroticus tem-poralis) is a prominent hole on the inferior surface of petrous part of the temporal bone, just anterior to jugular foramen. It gives passage for the internal carotid artery to enter the base of the skull. The internal carotid artery then curves anteromedially and enters the cranium through the foramen lacerum. [ Inferior view ]
Mastoid part (pars mastoidea temporalis) is the thick, roughened, posterior portion of the temporal bone that is located behind the ear.  [Lateral view/ Inferior view/ Posterior view]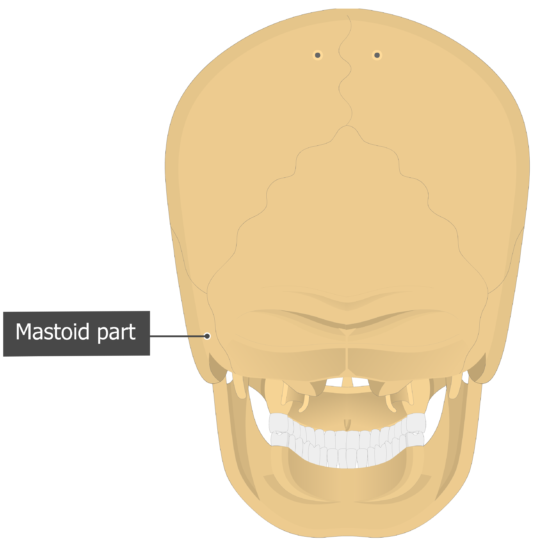 Mastoid process (processus mastoideus temporalis) is a pyramidal or conically shaped protrusion from the inferior surface of mastoid part of the temporal bone, just posterior to external auditory meatus. It contains air cells that connect to the middle ear and gives attachment to muscles that move the head and neck.  [Lateral view/ Inferior view/ Posterior view]
Mastoid notch (incisura mastoidea temporalis) is a narrow, deep depression on the medial side of the mastoid process. It is an attachment point for the digastric muscle that moves the hyoid bone and opens the mouth (or depresses the mandible). Inferior view/ Posterior view
Stylomastoid foramen (foramen stylo-mastoideum temporalis) is a small hole on the inferior surface of the petrous part of the temporal bone, in the region between styloid and mastoid processes. It allows the facial nerve to exit the skull and the stylomastoid artery to enter. [ Inferior view ]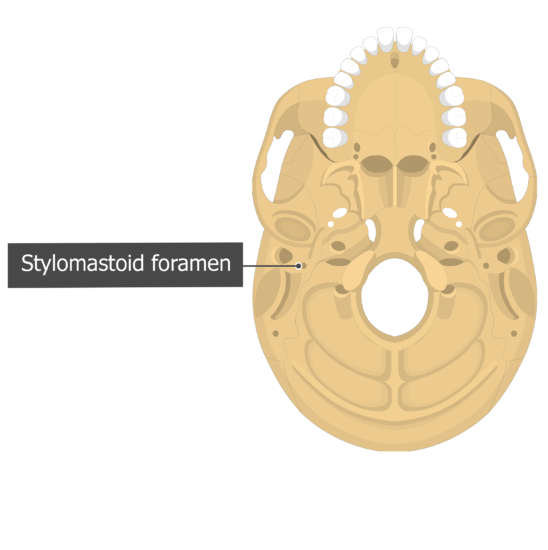 Mastoid foramen (foramen mastoideum temporalis) is a hole of variable size and position that is located on the inferior surface of the skull, posterior to mastoid process. It transmits the emissary vein(s) from the sigmoid sinus and a branch of the occipital artery to the dura mater. [ Inferior view ]
Test yourself:
Lateral view: [
Show/
Hide] answers
Inferior view: [
Show/
Hide] answers
Cranial floor view: [
Show/
Hide] answers
Posterior view: [
Show/
Hide] answers