Radius and Ulna Bones Anatomy
Last update:
Introduction to the Radius and Ulna Bones Anatomy
The radius and ulna are the bones of the forearm. The forearm is the region of the upper limb that extends from the elbow to the wrist.
The
radius bone (os radius) supports the lateral (thumb) side of the forearm and the
ulna bone (os ulna) supports the medial (little finger) side.
At the elbow, the radius and ulna articulate with the trochlea and capitulum of the humerus bone.
The junction between the humerus and radius is a hinge joint, which permits flexion and extension movements (front to back) of the elbow.
At the wrist, the radius articulates with the proximal row of carpal bones to form an ellipsoidal joint.
Learn the radius and ulna faster with these intelligent quizzes and free fill-in-the-blank diagrams.
This junction permits the wrist to move in two planes, flexion and extension (front to back) and abduction and adduction (side to side).
The forearm bones also articulate with each other. Proximally, the head of the radius forms a joint with the radial notch of the ulna, and distally, the head of the ulna forms a joint with the ulnar notch of the radius.
These pivot joints allow the radius to rotate around the ulna, which turns the palm of the hand (pronation and supination).
An interosseous membrane spans the distance between the medial edge of the radius and the lateral edge of the ulna.
Anterior Markings of the Radius
Anterior Markings of the Ulna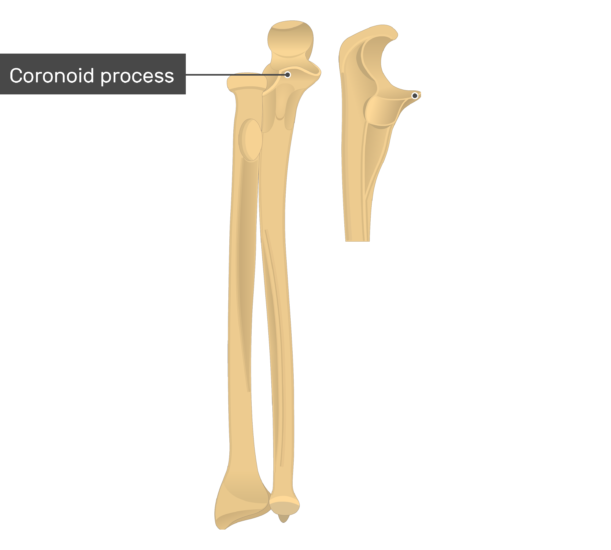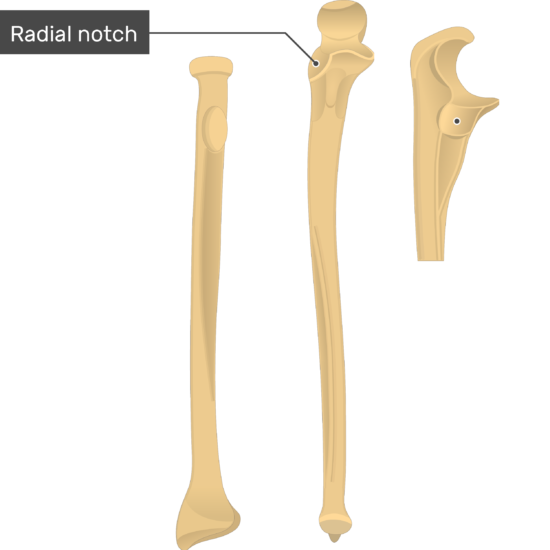 Posterior Markings of the Radius
Radial Head (caput radii) is a proximal, disc-shaped prominence. Its concave superior surface articulates with the capitulum of the humerus and its cylindrical lateral surface articulates with the radial notch of the ulna.
Radial Neck (collum radii) is the region of bone between the head and tuberosity.
Radial Shaft or body (corpus radii) is the elongated region of bone that extends distal to the neck.
Interosseous border of the radius (margo interosseus radii) is the medial edge (margin) of the bone where the interosseous membrane attaches.  This thin connective tissue membrane divides the forearm into anterior and posterior compartments. It also is an attachment site for several forearm muscles and transfers tension from the radius to the ulna.
Styloid process of the radius (processus styloideus radii) is a thick, pointed, lateral projection from the distal end of bone. It forms the lateral portion of the wrist joint and serves as an attachment site for the brachioradialis muscle and radial (lateral) collateral ligament
Use these interactive radius and ulna quizzes to learn this topic efficiently, and from scratch!
Posterior Markings of the Ulna: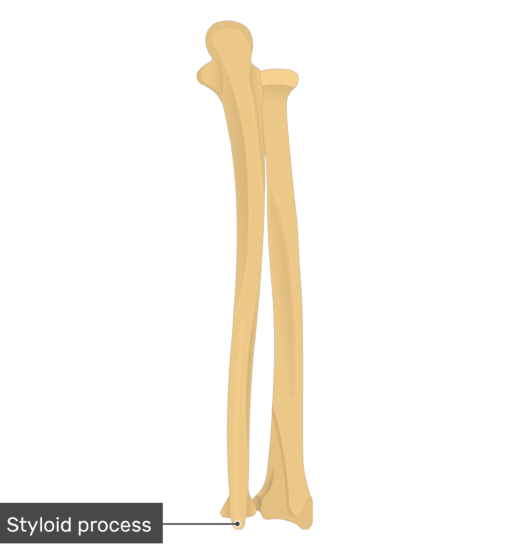 Test yourself: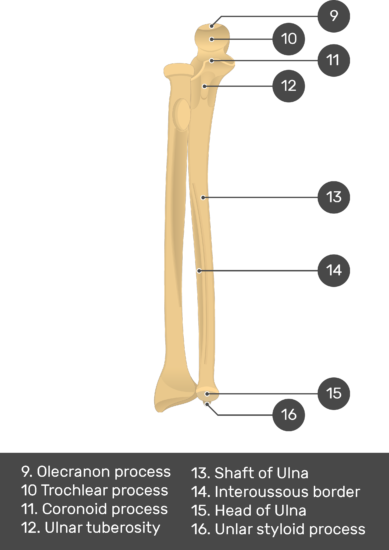 Interactive quizzes about the radius and the ulna
Radius and Ulna Bones Quiz: Anterior Markings
Radius and Ulna Bones Quiz: Posterior Markings